It may sound a little obvious, but not all air is clean and pure.
Even more obvious is that we live in a constant whirwind of dust and other particles wherever we go.
So why does that matter when it comes to servicing your car?
Simple!
Both you and your car's engine function better when you've got good, clean and healthy air rather than dirty contaminated alternatives.
There's two main air filtration devices fitted to the average passenger vehicle and we here at Gassed Automotive believe both to be vital in all car servicing operations.
Engine air intake filtration
Your engine takes in A LOT of air. All of the vroom vroom requires huge amounts of oxygen to occur and that needs to be sucked into the engine on a regular, metered basis.
To keep all of the nasty dirt and other contamination from finding their way through the inlet tract and into your egnine internals, an air cleaner or air filter element is fitted to capture all the fine particles.
Filter types can vary pretty widely (from conical, to flat panel, paper based, oiled cotton and more!) but the concept is the same. Capture the bad stuff and keep it on the outside of the engine. 
Most service schedules soecify that the air filter should be changed out every 25,000km. But we always make sure to check at each and every service just to be sure that things aren't deteriorating quicker than expected. In tough conditions (excess dust and debris- offroad driving etc) we'll recommend changing your filter element far sooner.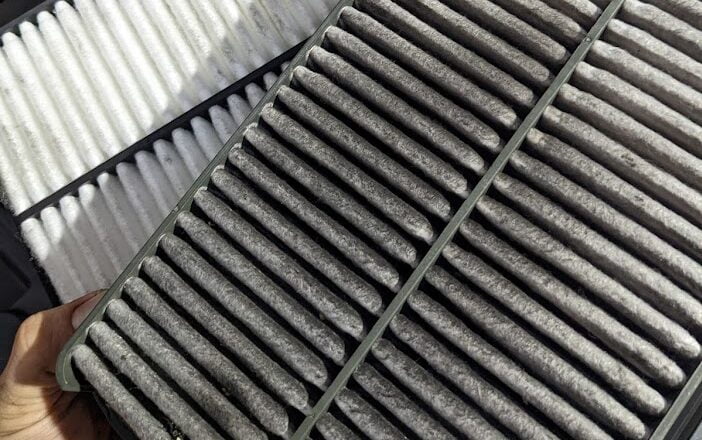 Cabin air filtration
Now that we've covered off filtering the air for your engine- what about your air?
You and the engine are consuming the same external air- with the same particles, dust and debris- all that same nastiness.
All new vehicles and most post 2000 are fitted with an internal air filter, known as a cabin filter. 
The cabin filter captures the dust, dirt and debris from the fresh air inlet (usually this comes in from the panel in front of the windscreen) and traps it inside layers of paper, cotton or other media. The cabin filter also grabs hold of bigger debris that finds its way in- things like twigs, sticks, hair, feathers and anything else you can think of. 
Cabin filters can be filthy in months, or clean for years- it all depends on the condition of the air you're driving in and moreso how often you use your airconditioning. 
We recommend replacing them at least once every 2 services (12 months) to make sure it stays clean and no foul odours develop in your A/c system.